Our departments were created with patients in focus.
Departments of Szpital na Klinach satisfy patients' needs with respect to surgical procedures involving many specialists, based on modern diagnostics and professional hospital care. We place special emphasis on minimising surgical interventions; hence, most of the procedures are performed laparoscopically.

European Center for Comprehensive Hernia Treatment

GENERAL SURGERY

Gynaecology

OBSTETRICS

ONCOLOGICAL SURGERY

Orthopaedics

Plastic surgery

Spinal surgery

Urology

Vascular surgery

Grand opening
of the Robotic Surgery Centre – research and teaching base of the Gynaecology and Urogynaecology Clinic at Andrzej Frycz Modrzewski Krakow University
In April we launched a Robotic Surgery Centre at Szpital na Klinach. Using the da Vinci Surgical System we now perform at our hospital surgical procedures for prostate and endometrial cancer, and soon we will also be performing general surgery procedures.
All patients, both male and female, who report to us with oncological complaints within gynaecology or urology are provided with comprehensive care by our multidisciplinary medical team, i.e. a surgeon, a psychooncologist and an anaesthesiologist, as well as a physiotherapist and a dietician. Have a look at our patients' opinions!
Have a look at our patients' opinions!
'I felt safe and surrounded by professional care – not just medical. The psychologist's and physiotherapist's support gave me a sense of comfort. I was quiet because the doctor who operated on me had informed me precisely about the "scenario" of the procedure; he patiently responded to all the questions and doubts that bothered me; he discussed in a down-to-earth manner further treatment and the course of action after the procedure. I was surprised to be able to walk along the corridor already the day after the procedure. And now I only have some follow-up visits ahead of me', says Justyna who underwent a gynaecological oncological surgery.'
'The diagnosis I heard was neoplasm. Before the operation I had a lot of fears and doubts. However, I only felt pain just after waking up from the anaesthetic. I was positively surprised by the unparalleled thoughtfulness of the hospital team – some of the people that supported me were the psychologist and the physiotherapeutic. Already on the fourth day after the operation I was back home. Now, after 2 weeks, I feel physical and mental comfort. I now know that to have that operation was the best decision I could make', says Marek who underwent a urologic surgery.'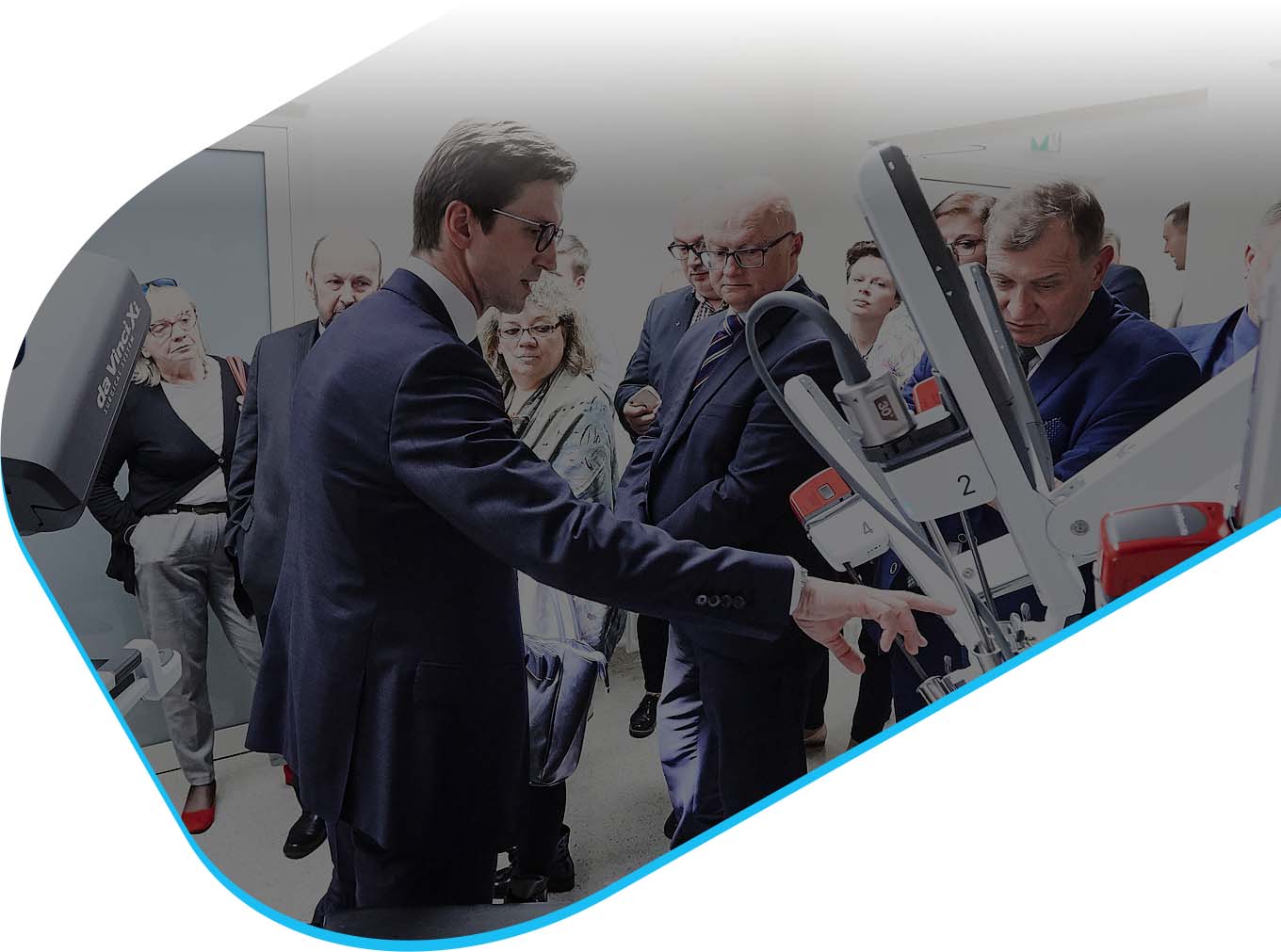 About us
Szpital na Klinach – CLOSEST TO THE PATIENTS
A modern hospital of the 21st century means an efficient and creative combination of two foundations, i.e. people and technology. Szpital na Klinach, which belongs to the NEO HOSPITAL Group, combines most outstanding specialty doctors with ultramodern equipment, thus building up one of the most effective and patient-friendly medical centres in Central and Eastern Europe.
But there is more to it. Szpital na Klinach was established with the underlying belief that the care for the patient's health, dignity and sense of comfort and safety are the most important values. Today, Szpital na Klinach sets the standards of private health care by meeting its patients' expectations at every stage of contact with the facility and its whole personnel. The hospital is comprised of a team of 100 specialists and doctors who use the best clinical practices based on extensive experience gained at Polish and foreign centres. It offers comprehensive health care at the outpatient level as well as in the field of diagnostics and surgical procedures in specialties such as gynaecology, urology, orthopaedics, general surgery, vascular surgery, surgical oncology as well as plastic surgery.
Partnerzy